Thanks for sending me you request for a FREE Banner.

I will process your request and get back to you as soon as possible.
If I have any questions I will contact you via email.

If you have the time please stop by and sign my GuestBook.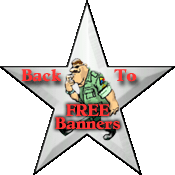 Send me email: BulldogBM@aol.com

CYBER SARGE'S
VIETNAM VETERAN'S WEB SITE INDEX
PLEASE SEE THE "SITE MAP" FOR MORE PAGES!