<![if !supportEmptyParas]> <![endif]>
<![if !supportEmptyParas]> <![endif]>
<![if !supportEmptyParas]> <![endif]>
NEEDS YOUR HELP

BACKGROUND:- The WALK project in 7 years has gone from a paper plan to
establishing a magnificent Monument on site, together with 200 trees planted.
That Monument and trees are dedicated to our Fallen from Vietnam. In those 7
years the WALK has captured the imagination, emotion and gratitude of thousands
of Vietnam Veterans and their families, on both sides of the Pacific Ocean with its
promise. The WALK is helping to heal some of the bitterness felt by many Veterans
due to the treatment they received when they returned to the world after their
service in Vietnam.

THREAT:- I have found out by chance, as this has been kept secret by certain
members of the local council for many months, that here in the Highlands a local
Land Care Group, read GREENIES, have contacted Council to assert that Cherry
Trees are quote "unsuitable" for this area and want to plant native trees in the area
set aside by Council for the WALK project, 7 years ago. If this takes place it will
prevent the WALK from reaching its full potential. BTW the Council has backed the
WALK from day one in support in many ways, but the fact that there have been meetings
in secret with only a couple of members of the council leads me to believe the worst.
Nor has thegreenie proposal been made public, or shown to the Walk Committee, WHY?

BETRAYAL:- I believe that if the greenies are given their way this would be a Betrayal
of our Service, a Betrayal of the Memory of our Fallen. The way the greenies proposal
has been kept secret is not the Australian way, if you have anything to say about our
service in Vietnam stand up like a man and tell us face to face, we did not back away from
Serving our Country and we will not back away from scum who disrespect us. These
greenies i believe are on a par with the maggots who protested us during & after the war.

ACTION:- (1) Do not send this email to Council.
Click on the Councils email address, here:- WSCMail@wsc.nsw.gov.au
Subject:- ATTENTION MAYOR PHIL YEO,

2:- Let the Mayor know who you feel about anyone who attacks the Memory of our
Fallen and a Dedicated Vietnam War Memorial. Please no violence and no foul language.
This is our Mates we are fighting for. It NEVER ENDS!~!

3:- Send me a copy of all emails to council.
So it can be added to our
SAVE THE CHERRY TREE FORUM.

4:- Please forward this email onto all your friends to help support
"Save The Cherry Tree Walk" we need your support in this.

Thanking you in advance,
Save The Cherry Tree Committee Members.
<![if !supportEmptyParas]> <![endif]>
<![if !supportEmptyParas]> <![endif]>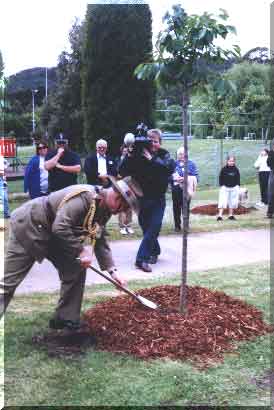 Visit the

VIETNAM WAR MEMORIAL
Cherry Tree Walk Homepage
http://aussievet7.homestead.com