<![if !supportEmptyParas]> <![endif]>
Military accused of lying about Agent Orange
Last Updated Thu, 23 Jun 2005 17:09:47 EDT
An angry crowd accused military officials of a cover-up during a hearing into the spraying of Agent Orange and other defoliants at a New Brunswick military base in the 1950s and 1960s.
INDEPTH: Agent Orange
Officials from the Department of National Defense, Veterans Affairs Canada and Canadian Forces Base Gagetown tried to downplay health hazards at the first public briefing on the issue in more than 30 years.
The hearing at the base on Thursday followed a CBC News report that revealed Agent Purple, considered three times more toxic than the cancer-linked Agent Orange, was also sprayed on the base in 1966.
FROM JUNE 13, 2005: N.B. army base sprayed with toxic chemicals
The reassurances did little to calm the audience of more than 100 people, which included civilians and veterans who believe their health was damaged by the spraying.
'Don't try to shove that down our throats'
The military's most controversial comment was that Agent Orange and Agent Purple were only sprayed on a small area of the base and only for a total of seven days in 1966 and 1967.
Many people who stood up to ask questions accused officials of lying about the extent of the testing, as well as its effects.
At one point, a man shouted, "Don't try to shove that down our throats, we're not going to take it."
John Chisholm said he knew that claim was false because he worked as a member of the ground crew on the spray program.
"This wasn't just a few days. And it wasn't just one helicopter, either. It was fixed-wing aircraft and it went on for years, covering a very big area," Chisholm said.
'We were colored yellow from the spray'
He and other veterans and civilians who worked on the base described being exposed to the spraying and blamed it for illnesses they later developed.
"[The] first few times that we were out there, we came in, we were colored orange, we were colored yellow from the spray that came down on top of us," Chisholm said.
Chisholm, who is being treated for cancer and other health problems, said his wife died of cancer in 1996 and virtually all of his friends who worked with him in the spray program are also dead.
Kenneth Dobbie said he joined other men to clear sprayed brush on the base without wearing any protective gear, gloves or facemasks.
"We cut it, we ingested the fumes, we burned it, therefore we inhaled the smoke ... and when it came time to eat, we sat down among all the toxins and we ate lunch with our bare hands."
A woman recounted her father's memories of becoming coated with the spray after being asked to watch the spraying operation from a hill. She blamed the spraying for premature pregnancies in her family, including her mother's 13 miscarriages.
'It's time that you stood up and admitted that there is a problem'
"It's time that you stood up and admitted that there is a problem, that there wasn't only two or three barrels of this stuff sprayed at Base Gagetown," said Glen Stewart, the executive director of the provincial branch of the Royal Canadian Legion.
Like many in the audience, Stewart expressed fear that rates of cancer and other illnesses were abnormally high around the base.
"I am very confident that you will find that the death rate from various types of illnesses, including cancer, is higher in this area than it is in any other place in Canada," Stewart said.
At the meeting, both Defense and Veterans Affairs officials promised to do everything they could to investigate potential health hazards and help people who might have been affected.
They urged people who think exposure hurt them or their relatives to apply for disability pensions. The Canadian military is already paying compensation in two cases connected to the spraying.
Spraying was 'small scale,' DND says
Karen Ellis, a Defense spokeswoman, said Agent Orange was sprayed over seven days in 1966 and 1967, on a "small scale" under strict controls that prevented the spray from drifting more than about 15 meters.
Ellis said it was very unlikely that civilians living near Gagetown were exposed to Agent Orange, which contains the carcinogen dioxin.
She said Defense is conducting tests to determine the level of dioxin in soil and consulting the U.S. military to find out the exact levels of the carcinogen used in the sprays.
FROM JUNE 15, 2005: Toxic herbicide could still be on army base, scientist says
The Defense Department has now received 300 compensation claims and more than 400 inquiries.
Ellis said each one would be evaluated fairly, with soldiers getting "the benefit of the doubt."
At the time of the spray program, it was believed the chemicals were harmless to human health and virtually no precautions were taken to minimize human contact.
U.S. forces sprayed Agent Orange to defoliate large areas of forest in Vietnam from 1961 until 1971, when it was discovered to contain dioxin.
Agent Orange got its name because of the colored stripes on its containers.
Copyright ©2005 Canadian Broadcasting Corporation - All Rights Reserved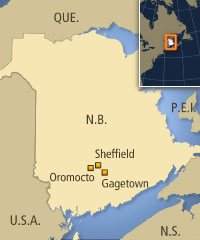 MORE INFO:
http://www.cbc.ca/news/background/agentorange/
http://www.cbc.ca/story/canada/national/2005/06/13/agent-orange050613.html
http://www.cbc.ca/story/canada/national/2005/06/15/agent-purple050615.html
FOR INFORMATION PURPOSES ONLY…..
FROM CBC NEWS. http://www.cbc.ca/
<![if !supportEmptyParas]> <![endif]>
Added info from an email I received on September 2007:
In Canada at Canadian Forces Base Gagetown, New Brunswick our soldiers were being
sprayed with 2,4-D and 2,4,5-T starting in 1956.
In 1956 3687 acres were sprayed while soldiers trained.
1957 3149 acres were sprayed.
1958 4469 & 2639 & 500 acres were sprayed.
1960 9000 acres were sprayed.
1961 5189 acres were sprayed.
1963 9653 acres were sprayed.
1964 10000 acres were sprayed.
(from DND documents - Right to Information)
In 1964 there was a spray accident chemicals drifted to local communities.
DND stopped using 2,4-D and 2,4,5-T, they pursued Tordon 101 with picloram.
In 1966 and 1967, the US military was invited to camp Gagetown to test their Agent Orange, Agent Purple and Agent White.
No one was told.
All together 1.3 million liters plus 2 million pounds of 2,4-D and 2,4,5-T and Tordon 101 with picloram were sprayed on Gagetown, while soldiers were in training.