<![if !supportEmptyParas]> <![endif]>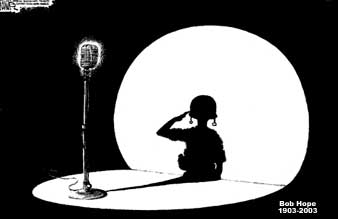 I was stationed in Tay Ninh, Vietnam 1968-69, which was a few miles north of Cu Chi and never got to go to Bob Hope's
show in Cu Chi. He would pack them in and there were only a few guys from our artillery battery that were fortunate
enough to go. Of course we ALL wanted to go see him but it just wasn't an option. I did hear a statement that he
made when he flew out of Cu Chi and over Tay Ninh, it was something like "I wish I could have brought the show to
those guy's too"
which warmed my heart!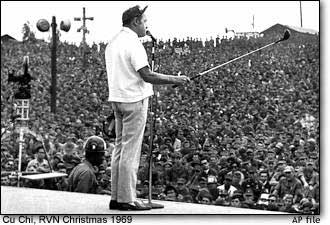 <![if !supportEmptyParas]> <![endif]>
BOB HOPE
was a true legend in our time and will be remembered forever!
<![if !supportEmptyParas]> <![endif]>
THANK YOU BOB
for
ALL the laughs
ALL the smiles
ALL the jokes
ALL the humor
ALL the good times
ALL the thoughtfulness
ALL the caring
ALL the memories
ALL of everything
THANK YOU BOB
…..from all us veterans!
<![if !supportEmptyParas]> <![endif]>

Monday, July 28, 2003
Department of Defense Statement on the Death of Bob Hope
Today, we mourn the loss of a true American patriot. The first and only American ever to be made an honorary Veteran of America's Armed Forces, Bob Hope holds a special place in the national security pantheon. He called the troops his "best friends," and he made it his mission to be with them wherever they served, regardless of distance or danger.
To many of our forces from across the generations, Bob Hope's visits were a taste of home in a far-off land; a moment of mirth in the middle of war, and a loud and clear message to our military that America honored their service and prayed for their safe return.
Bob Hope's final tour, at age 87, took him to the Persian Gulf and the men and women of Desert Storm.
Although he is no longer with us in life, he will always remain, just as he was, in our hearts -- cracking jokes, boosting morale, and reminding all the world of what it means to be an American.
With profound gratitude for his decades of service to our country, we extend our deepest sympathy to his family and many friends.
<![if !supportEmptyParas]> <![endif]>
VA Secretary Salutes Legacy of Bob Hope

WASHINGTON (July 28, 2003) - Veterans Affairs Secretary Anthony J. Principi
today offered condolences to the family of Bob Hope on behalf of American
veterans whose lives were brightened by the entertainer during field
performances from World War II to the first Gulf War.

"Veterans everywhere hold a special place in their hearts for Bob Hope,''
Principi said. "For decades, he filled their cold and lonely watches with
laughter and the warmth of memories from home."

Bob Hope set the standard within the entertainment industry for supporting
U.S. troops in peacetime and sharing the hazards of wartime, Principi said.

"He was a link to family and friends, a cheerful reminder of a free society
that can poke fun at itself while cherishing the values for which our troops
sacrifice every day," Principi added.

When a congressional resolution bestowed upon him the title of "honorary
veteran" in 1997, Hope said that he had been given many awards in his
lifetime, but to be numbered among the men and women he admired the most was
the greatest honor he had ever received.

Bob Hope died July 27 in Los Angeles at the age of 100.
<![if !supportEmptyParas]> <![endif]>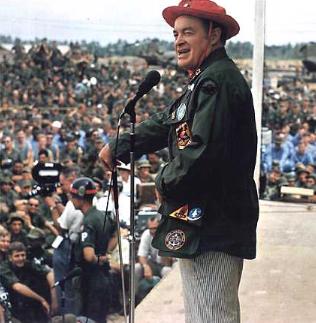 SOME LINKS:
<![if !supportEmptyParas]> <![endif]>
Thanks for The Memories
http://www.byjoy.com/BobHope.html

Bob Hope and American Variety(Library of Congress Exhibition)
http://lcweb.loc.gov/exhibits/bobhope/

Bob Hope on TV
http://www.tvparty.com/movbob.html

Faces of Bob Hope
http://www.loc.gov/exhibits/bobhope/faces.html

USO Shows: Bob Hope and American Variety
http://www.loc.gov/exhibits/bobhope/uso.html

Bob Hope
http://us.imdb.com/Name?Hope,+Bob

BOB HOPE NAVY SHIP Ships List: Alphabetical by Name
http://www.chinfo.navy.mil/navpalib/ships/lists/shipalfa.html

The Bob Hope Theatre
http://www.bobhopetheatre.co.uk/opening.htm

BOB HOPE AMCTV.com BIOGRAPHY
http://www.amctv.com/person/detail/0,,682-1-EST,00.html
<![if !supportEmptyParas]> <![endif]>
Kitty Korner PoofCat Thanks For The Memories
http://home.att.net/~Poofycatt/bobhope.html
<![if !supportEmptyParas]> <![endif]>
<![if !supportEmptyParas]> <![endif]>
<![if !supportEmptyParas]> <![endif]>
<![if !supportEmptyParas]> <![endif]>
<![if !supportEmptyParas]> <![endif]>