I believe I have this because of the work I did for 20 years and my site building. It is not caused by the military.
Carpal Tunnel
Carpal tunnel is the area under a ligament (a tough, elastic band of tissue that connects bones and organs in place) in front of the wrist. The median nerve, which passes through the carpal tunnel, supplies the thumb side of the hand. Repetitive movements of the hand and wrist can cause inflammation of structures (such as tendons and their coverings) that surround the median nerve. The inflammation may compress this nerve, producing numbness, tingling, and pain in the first three fingers and the thumb side of the hand-a condition known as carpal tunnel syndrome.
http://www.ninds.nih.gov/disorders/carpal_tunnel/carpal_tunnel.htm
http://www.mayoclinic.com/health/carpal-tunnel-syndrome/DS00326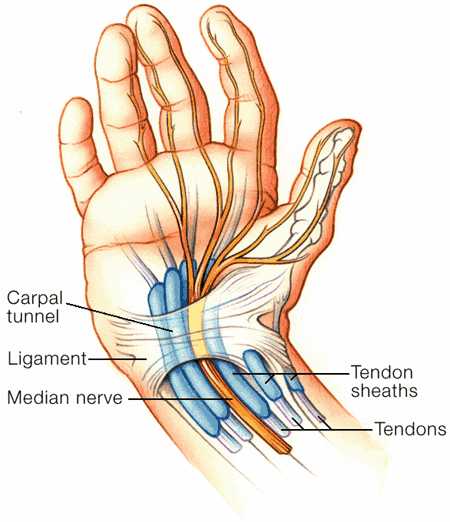 CYBER SARGE'S
VIETNAM VETERAN'S WEB SITE INDEX
PLEASE SEE THE "SITE MAP" FOR MORE PAGES!


Content on this web site is © Copyright © 1999-2007 ~ Cyber Sarge's© (B W Milne) ~ All Rights Reserved.
If there is any material published on our pages that any person/s consider
is in breach of their copyright and should not be published on any of our pages,
please contact us at the address below and the material will be removed at once.
Please ask permission before reusing any images or text on these pages.
Webmaster